There are few things that the sweet, playful nature of a dog or calm, tempered nature of a cat can't fix. According to the 2019-20 National Pet Owners survey, sixty-seven percent of U.S. households own a pet. A majority of Americans have a soft spot for furry companions.
With our historied connection to these creatures, it's no wonder that studies have shown the positive effects of therapy animals on people dealing with life-limiting illnesses. Animal-assisted therapy is a type of treatment that works in conjunction with other medicines and therapies doctors use to treat patients with physical or mental disorders. While therapy dogs are the most commonly used animal, therapy animals can be anything from dogs to cats and even birds or guinea pigs.
In a hospice setting, therapy animals can help improve a patient's quality of life. Keep reading to see if a therapy animal is suitable for your loved one in hospice care.
What is Animal-Assisted Therapy?
Animal-assisted therapy (AAT) is a form of treatment for physical and mental illness that utilizes the bond between humans and animals. This bond with animals and other forms of life in nature is known as biophilia therapy. 
Every session is different. Therapy animals serve a need depending on the condition of the patient. Most AAT involves physical contact with the animal, like petting or holding, throughout the session. For some, spending an hour petting an animal can be greatly beneficial as its calm nature promotes comfort and security for the patient. 
Other parts of AAT can include feeding, grooming and speaking to the animal. 
The format of these appointments varies by handler and the needs of the the hospice patient. Some facilities prefer structured, formulaic visits like this study, which divided the session into four distinct phases. Other AAT sessions are casual, allowing the patient more flexibility with their therapy animal.
What Are the Benefits of Animal Therapy?
Animal therapy benefits are two-fold, including benefits to both physical and mental health. Hospice pet therapy programs can help alleviate the physical and mental symptoms and stress of a terminal illness. 
Therapy Animals for Physical Symptoms
Animal-assisted therapy has shown to help deal with physical symptoms of ailments like:
High blood pressure

Pain

Loss of motor-function
Due to their mood-boosting characteristics, therapy animals can help alleviate some of the physical aspects of a hospice patient's ailment. Some studies showed that levels of oxytocin, a hormone that creates feelings of trust and empathy, rose in some participants whenever they were given an opportunity to pet a dog for just 30 minutes. 
Therapy Animals for Mental Symptoms
Therapy pets can also help hospice patients with some of the mental strain of end-of-life. Some of the symptoms that AAT can reduce:
Stress, fear, worry

Depression

Anxiety

Anti-social behavior
Hospice therapy dogs and other therapy animals can offer much-needed stimulation and support for those undergoing the struggles of a terminal illness.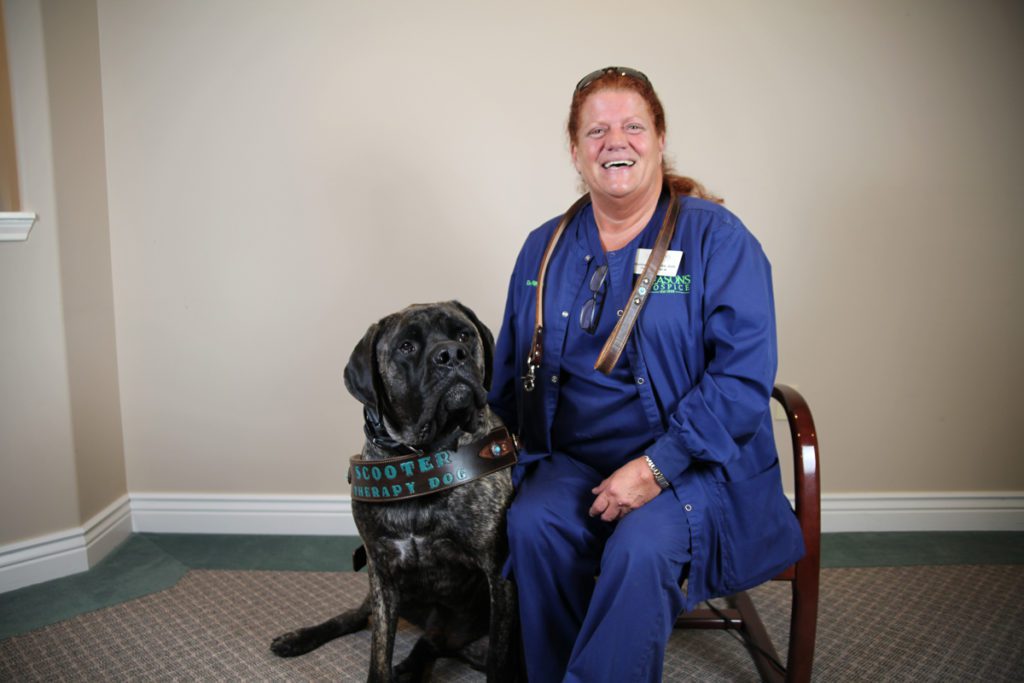 One of our very own Seasons Hospice Registered Nurses brings in her therapy mastiff to help patients deal with end-of-life emotional distresses.
Considerations Before Getting Emotional Support Animals
Before starting AAT, there are two factors that you need to consider: allergies and apprehension to animals.
Allergies:

If your loved one is allergic to dogs, cats or other therapy animals, it's best to steer clear of these interactions. An allergic reaction isn't helpful for anyone, and especially not for someone whose immune system may already be compromised either from their illness or the medications they are on.

Fear or apprehension toward animals:

If your loved one fears the therapy animal or is apprehensive towards animals, you should look at other forms of therapy. Animal-assisted therapy should only be used to comfort those who don't feel well, not as a phobia treatment.
Whenever your loved one is facing a terminal illness, don't take on the burden alone. Contact us at Seasons Hospice of Tulsa or Muskogee to see how our top-rated staff can give your loved one the excellent hospice care they deserve.